---
*

RubyKaigi2011 Admission Instruction
by @darashi
How to obtain your ticket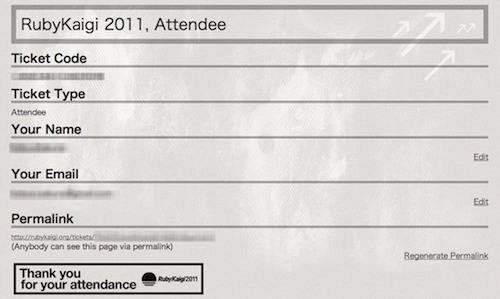 Admission Instructions
Please bring a print-out of your ticket (or display on your mobile device). Printing your ticket is better for smooth admission because it does not need electricity and WiFi connection :).
Show your ticket at the reception on your first day. We will hand out a name tag.
You are required to wear your name tag while you are in the venue.
For security reasons you must show your name tag when you re-enter the venue.
Attendees who applied to "Free Admission Program For Students"
Bring your student ID and show it at the reception.
Note
Tickets will not be sold at the door on the day.
In order to attend the party (on the 2nd day at Ikebukuro), you need "party ticket" that is different from the conference (Kaigi).
For the party admission instruction, we will make further announcement in a few days.
*

懇親会受付のお知らせ
日本Ruby会議2011懇親会は下記の要領にて開催されます。懇親会参加チケットをお持ちの方は、日本Ruby会議2011会場にて受付を実施しますので、懇親会までに必ず受付を済ませてください。
※ 懇親会チケットは完売しています。
懇親会開催概要
日付:7月17日(日)
時間:20時00分~22時00分(開場 19時30分~)
場所:サンシャイン60 58階 サンシャイン・クルーズ・クルーズ
地図:Map(地下のエレベータから58階まで上ってください)
懇親会受付について
懇親会の受付は、16~17日のランチ休憩以降から大ホールホワイエにて行ないます。懇親会に参加する方は、事前に受付にて懇親会チケットを提示し、受付を済ませてください。
懇親会チケットについて
懇親会チケットは http://rubykaigi.org/my_tickets から確認できます。スマートフォンからチケットを確認する手順については http://rubykaigi.tdiary.net/20110712.html#p02 に記載されています。
現地での受付について
懇親会会場でも受付を設置しますが、スペースの都合から多くの人を受付することができません。事前に受付を済ませるようお願いします。
---